Welcome to my Links Page!
Before clicking off and zipping away from this site to any one of the links below, be aware that if they do not have a link back to my site you'll have to use the "Back" arrow in your browser to get back here. I invite you to first bookmark my site to put it into your Favorites.  Thanks!

Free Genealogy Sites
The Greatest Web Site ever!   When you get there go to Family History menu.
This is a Great Site with many free documents, forms and tools.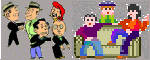 Click on the ICON above to go to the US Genealogy net.
This goes to Genealogy.com's Free (10 MB) Family Home Page builder.
Neat Software and Services

This are Great Sites that offers cool Journal Writing Software packages for $29.95 to $39.95.
This is a Great Site that offers to make a book in WordPerfect or MS Word from your PAF data. $59.95
Other Cool Web Sites
If you have ever said "I make alot of money, but I still can't keep up with my monthly bills." OR "Man,I can't keep my debt down even though I make enough." then you have taken the first step to something that is important to ALL of us, whether we make minimum wage or we are millionaires – BUDGETING.
I created this site FREE via my copy of Family Tree Maker v2006. It uses a free account on Genealogy.com to store the site.
I worked here 3 years before I got drafted into the US Army. It serves a worthy cause.
These are my Caving Buddies. Lots of cool pictures of the insides of many caves most people will never get to see.
Food Storage! Believe it or not, a one-year supply for $80 per person, and it all fits in a 6-gallon bucket!
Lauren Brooke Minerals offers really great natural cosmetics that are safe to use and really bring out all the beauty you have to show your world.
Harold Carey is a wizard at Web Development & Graphic Design. He built the first on-line college courses at UVSC too!